One of the most challenging questions that business students face in their entire careers will be the interview questions for MBA.
Receiving an interview invitation from your dream business school can be an exhilarating experience. But what follows can be a mixture of emotions before facing the MBA interview – uneasiness, fear, and dread.
This mixture of emotions may either make or break your chances of being admitted into the MBA school program.
Before the D-day, you must thoroughly prepare physically, mentally, and emotionally for the upcoming interview from MBA schools. The most efficient strategy for answering an interview is to imagine the questions and practice your special delivery of the answer.
Let me share the strategies on how to effectively respond and tackle the most nerve-wracking and mind-boggling MBA interview questions with confidence.
What is an MBA Admissions Interview?
An MBA admissions interview is an essential interview between you and the interviewer to showcase your business knowledge and potential for the MBA program you aim for.
What are Business School (MBA) Interviews Like?
Once you receive an invitation for an MBA admissions interview, you can be proud because it reflects the MBA program believing in your education and work potential. However, MBA interview questions can be delivered in various interview styles and content that can be very distressing, even to savvy applicants.
This myriad of questions puts a great deal of anxiety, fear, and dread as you try to figure out how to answer them intelligently and confidently, without the jitters during the interview.
Let me lead you on the different techniques of answering the most common and most problematic interview questions for an MBA.
Answering the 'Why's' of Taking an MBA
So, how do you best answer the big question of "Why do you want to earn a graduate business degree?"
Your answer to this MBA interview question will highlight your chosen degree as a trajectory for your long-term career plans. The problem can be best answered by:
Explaining your motivations thoroughly for pursuing the degree and how this degree will help in achieving your career plans;
Emphasizing the specific skills or knowledge advancement that you can learn from the degree program; and
Identifying how these skills or knowledge can be beneficial for the field, job function, or industry that interests you or you intend to apply.
What are the Most Common Questions for MBA Freshers?
The MBA school administrator where you are applying can employ various interview styles for different types of MBA interview questions. As a fresher, you need to know the different types of questions to prepare yourself for the interview properly.
General Questions
The interviewer uses the general interview questions for MBA to elicit your background, interests, and personality that can be influential for choosing the MBA program.
Situational Questions
On the other hand, behavioral questions enable the interviewer to comprehend your work abilities, skills, and past experiences that reflect your decision-making, analytical, and leadership skills.
STAR Approach
Situational questions can be best addressed using the STAR approach. It consists of:
Situation (S): It explains the conditions surrounding the situation you experienced.
Task (T): This approach discusses your role in the given experience.
Action (A): It discusses the actions you took to manage, improve, or overcome the situation.
Result (R): It describes the outcome of your actions.
List of Most Common MBA Interview Questions
Here is the list of the most common general and situational MBA interview questions that every fresher needs to know:
General Interview Questions
Situational Interview Questions
What makes you want to pursue a master's degree?
What is your most significant flaw?
Tell me more about yourself.
What other schools or programs are you enrolling in?
What are your common issues about pursuing an MBA?
What are three words other people use to describe you?
Why have you chosen to enroll in our school?
How would you make fair use of the resources we provide?
Do you agree that rule-breaking is sometimes necessary?
What has been your most challenging academic endeavor so far?
What has been your most rewarding educational venture so far?
What do you wish to attain from an MBA?
How do you think this program will aid in your career?
What are your identified short-term and long-term goals?
What do you believe could be your greatest struggle in this program?
Do you have any queries?
Can you share with me a time when you failed in a situation?
Did you encounter a manager that managed poorly?
Can you tell me about an ethical predicament that you've faced?
Can you describe a conflict you've faced, and what was your role in the conflict?
Can you describe a time when you manage a group?
Can you tell me about a situation when you worked closely with someone with a personality that conflicted with you?
Tell me about an incident when you committed a mistake. What was the error, and how could you have managed it differently?
Describe an incident when you failed to meet someone's presumptions.
How did you resolve the circumstance?
Tell me about an incident in which you adjusted to change.
What was the change, and what was the adjustment made?
Describe an event when you solved a significant conflict.
What was the conflict, and what was the resolution done?
Answering the 'Why Choose our School/Program' Questions
After knowing the most common MBA questions for freshers, let us determine the best answers for another big query, "Why are you interested in enrolling in this school?"
The question can be best tackled by:
Talking about the unique features of the school or program that made you interested in joining such a program;
Comprehensively citing school or program features that are in line with your career plan, in terms of faculty, course offerings, facilities, student activities, culture, location, industry connections, and job placement; and
Identifying your potential skills and passions that can contribute to the improvement of your future MBA school.
Your answer to this question will reflect on how thoroughly you researched the program and how eager you want to become part of its MBA community.
Tackling Leadership-Related MBA Questions
Interviewers might be interested in your leadership skills and will want to ask about it during MBA interviews. The leadership examples should not necessarily be acquired from previous work. Your answers should be able to highlight your:
Leadership Styles
Showcase your skills in handling a team or situation.
Role Models
Highlight instances wherein you emulated the leader in you.
High Ethical Grounds
Give examples wherein you stood firm in a particularly problematic situation where ethical issues were concerned.
Prompt Decision-Making Skills
Provide specific details of a previous event or activity wherein it required strong decision-making skills.
Answers to leadership questions should be action-based with tangible results that can be easily proven.
Best Answers for Strength and Weakness-Related MBA Interviews
After tackling the leadership-related MBA interview questions, let us determine how to approach the interview questions that feature your strengths and weaknesses. Strengths are relatively easy to highlight, whereas flaws might either drag the interview up or down.
"What are your strengths and weaknesses?" questions can be answered by:
First, identifying two to three personal strengths that sets you apart from other applicants, and citing some examples of situations that support such;
Choosing and stating weaknesses carefully and honestly;
Citing some actions performed to improve or better handle these weaknesses; and
Using the interview to remove potential red flags indicated in your resume.
Admitting weaknesses might turn the interview south. But you can use this opportunity to turn these weaknesses into a positive source of self-reflection, improvement, and learning that appeals to the interviewer.
How Do You Highlight Your Short-Term and Long Term Goals in the Interview?
Next, how do you answer the "What are your short-term and long-term goals?" interview question for MBA?
Interviewers will most commonly inquire about these goal questions because it will gauge your career motivation and direction. The following are the tips on how to answer this question better:
Both goals should be SMART (Specific, Measurable, Attainable, Realistic, and Time-bound), business-inclined, and career-oriented.
Short-term goals should be concrete, achievable, and time-bound, with a specific time projection.
Long-term goals should reflect your passions and personality for cultivating your career and business goals.
Answering Toughest MBA Questions
Answering the most common MBA interview questions can be challenging. But tackling the most demanding questions can be nerve-wracking on your part as an applicant. You will need to search for the right words to satisfy the interviewer and avoid unnecessary, potential 'slip of the tongue' answers.
I'll share with you some of the most challenging interview questions for the MBA and the recommended answers per question.
List of Toughest Interview Questions for MBA (Reasons, Approach, and Answers)
Toughest Questions and Reasons
Recommended Approach and Answers
Tell me about a situation in which you experienced failure.> No one will like to highlight their less-flattering characteristics or faults during an interview that requires a showcase of the best assets.
Failure may be presented as a learning opportunity on your part as an applicant. Choose work or personal situations that genuinely occurred but were not detrimental to your previous organization to avoid lapses in poor judgment. Accept your role in the incident, explain your reaction, discuss the learnings you acquired, and the intent of having done it differently if given a chance. You can also present a recent success achieved from the lessons learned from the failure incident. Always maintain a positive tone while discussing the experience, and not a negative, blameful one.
Describe a bad manager you had in the past.> Answering this question poses a challenge on objectively identifying the manager's fault while articulating your thoughts on good management and leadership.
It is best answered by briefly and objectively explaining the manager's fault. After that, you can identify your approach, coping, and decision-making abilities toward the situation to achieve a favorable result.
Identify an ethical dilemma that you faced in the past. > This question gives an overview of your ethical-moral views and how you used this moral gauge when life tested you. Such sensitive topics can be tough to share in interviews.
Choose to explain dilemmas briefly, explain your actions and thoughts related to the problem, and the learnings you acquired from experience. It is wise to seek advice from friends, family, or application advisers for this type of question to deliver sincere and mature answers.
Tell me more about yourself.
> It is the most common and seemingly most straightforward question, but it isn't easy to answer because it is so open-ended.
Interviewers usually ask this question to identify your interest and contribution to the program. Better introduce yourself by creating a one to two-minute 'elevator pitch.' This pitch should highlight your background, education and work achievements and passions, reasons for choosing the MBA, and springboarding goals from pursuing the program. Practice delivering your elevator pitch to various audiences until you can present it flawlessly, conversationally, genuinely, and memorably.
What other schools did you apply for? > It is quite unfair as an applicant to be asked a question that you did not know its effect on your admission interview. It might either make or break your admission into the MBA program.
Interviewers ask this challenging question to understand your basis for selecting target schools, whether you prefer the top-ranked ones or the seasonal schools. First, you need to be honest about your reason for choosing the school. Second, you enumerate the schools you have chosen. Third, identify the elements that pushed you to select the school based on thorough research, preferred school conditions and offerings, and careful career plan consideration.
How would people close to you depict you in three words? > Assessing your character or personality as perceived by others is challenging, significantly if you limit it to a few words.
This question gauges your self-awareness and emotional intelligence as you tackle others' perceptions of you. Ask your colleagues, family, and friends about the words that better represent you as a person. After identifying the words, be specific and give examples of situations that highlight those characteristics.
Do you agree when people you remember the most break the rules? > This question puts you in the vulnerable position of identifying leaders or innovators that are rule-breakers. These 'rule breakers' might have some influence on the school that you are enrolling in.
Rather than citing a situation that requires rule-breaking, you can answer the question by acknowledging that rule-breakers harm others and suffer the consequences. Point out that rule-changing is better than rule-breaking – changing the rules to become more applicable, timely, and relevant to current norms.
Parting Words
The experience of answering interview questions for an MBA can be a challenging learning process for you as an applicant. It will showcase your personal and educational background, social, leadership, and work-related abilities, as well as the not-so-good aspects of your experience by answering various MBA interview questions.
The best way to approach the MBA interview questions is to review all the possible queries and practice delivering unique, genuine, and concise responses.
Do not forget to end the interview by asking some questions pertinent to the MBA program. This inquiry will help you identify the program's knowledge gaps and express your interest in the degree you are enrolling in.
An intensive MBA interview won't necessarily guarantee admission to the program, but a poorly answered one lessens your chances of enrolling in your dream school.
On the interview day, allow yourself to stay composed and confident as the interviewer knows you as a person and as a candidate.
You can download the Orai app to help you prepare for your next MBA interview. Remember, review your notes, sit back, relax, and enjoy the interview process!
Summary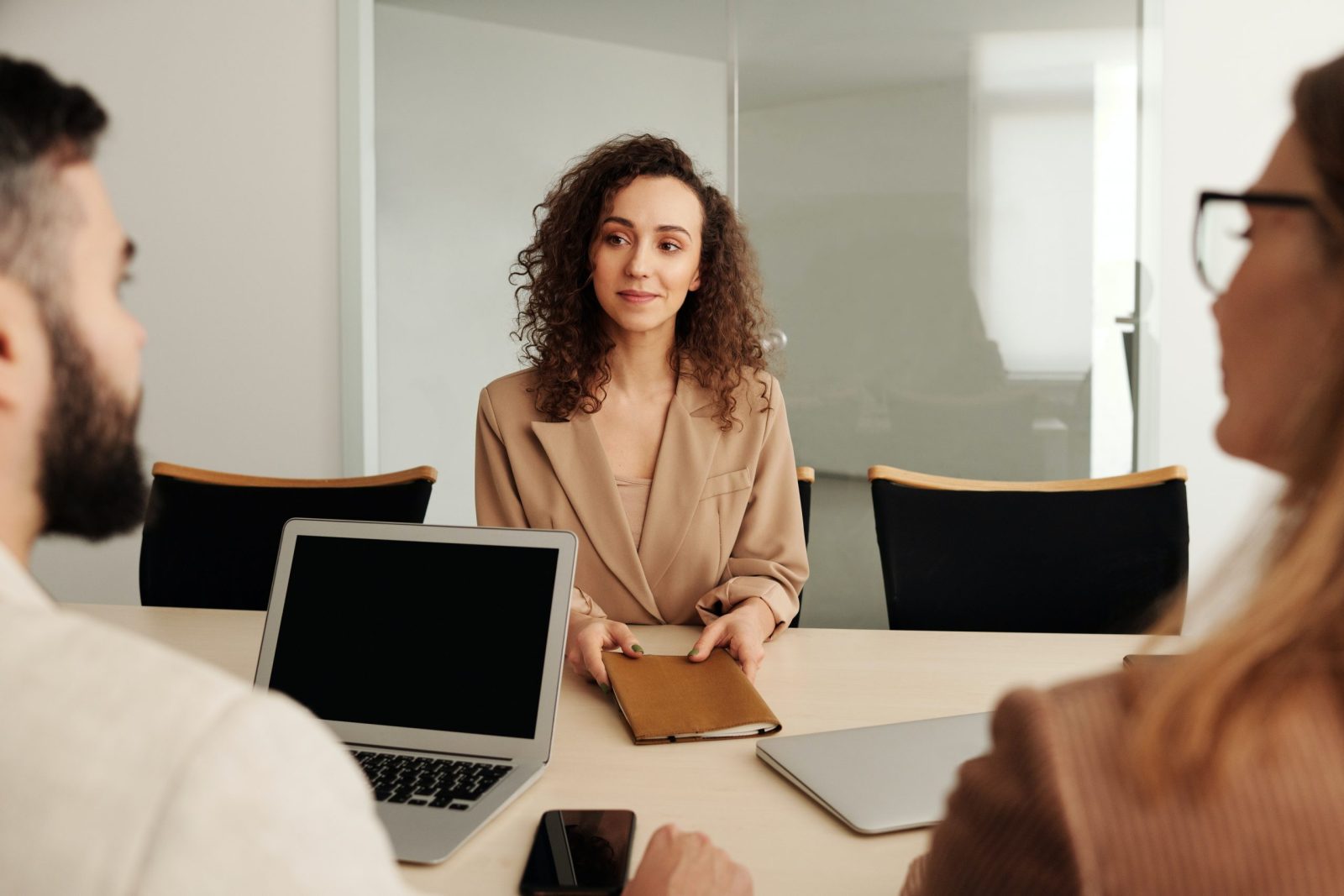 Article Name
Most Common MBA Interview Questions - Answers and Techniques
Description
Do you want to ace the most difficult MBA interview questions? Here are the most helpful techniques and hardest questions!
Author
Publisher Name
Publisher Logo