Introduction
An interview presentation is a short persuasive presentation that an interviewer can ask you to deliver in lieu or in addition to a sit-down interview. Your interviewer may ask you to prepare an impromptu presentation on the day of the interview, or you may have some days to prepare.
Interview presentations are a way for your employers to assess your skills in various areas and determine if you will fit into the organization well. I have several tips and examples that will help you ace your presentation. But let us look at the proper interview greeting etiquette first.
How to greet an interview panel
Interview etiquette demands that you greet every staff member you meet at your interview location, from the receptionist up until you met your interview panel. When you get to the panel conducting your interview, you have to walk up to them with a smile. Give them an individual handshake and a 'Good Morning.'
How should you introduce yourself in an interview?
After greeting the interview panel, you have to introduce yourself. Make sure you have a prepared greeting or check out some interview presentation templates before you go for the interview to sound professional. State your full name, educational background, and skill. It can go like,
"My name is Robert, and I'm a graduate of Marketing here for the role of digital marketing associate. I have a strong background in digital marketing, and I would love to become a valuable member of your team."
How to introduce myself with a presentation in an interview
When you have to give an interview presentation, the first thing you should do is introduce yourself. The introduction for a job interview presentation can be more detailed than that for a regular interview, and it should lead to the next part of your interview presentation. You can find several interview presentation templates online, such as,
"Good Afternoon. My name is Robert, and I'm a marketing graduate with over two years of digital marketing experience. I've always been passionate about digital marketing and finding smarter ways to promote a brand. I have developed strategies for so-so brands, and I helped take their brand visibility up by 15% in 2 months. I'm here to talk about how those strategies can benefit this organization in a so-so way."
What are the best interview skills?
1. Research
One of the things employers look out for in an interviewee is their research skills. You should show them how well you can do research and how prepared you are for the interview presentation. Sometimes, they can test you by asking you questions about the company that you would only know if you had put in the effort before attending the interview presentation. You can find such questions in many interview presentation templates online.
2. Verbal and written communication skills
You require excellent verbal and written communication skills for your interview presentation to be effective and successful. Verbal communication skills allow you to deliver your presentation in clear, concise words without depending on a crutch. Interviewers also look out for your ability to enunciate, speak confidently, and convince with your words. If you use an interview PowerPoint presentation, you need good written communication skills in your slides.
3. Non-verbal communication skills
Body language, gestures, and body management are important communication tools that tell a lot about you and what you're thinking. You need to have good body management and maintain the right posture for confidence and optimism. Your body language and hand gesture can also signal your confidence, nervousness, and excitement, so you need to use them the right way.
4. Soft skills
Soft skills include communication skills, people skills, personality traits, emotional intelligence, and social skills that show how well you relate. You need these skills to fit into the work culture, so the interviewers will look out for those skills they consider important.
5. Ability to perform under pressure
One of the top requirements employers look for is the ability to perform under stress and supervision. Many interviewers use the job interview presentation as an opportunity to test you for those abilities. How you prepare and deliver your interview presentation within a limited time can inform them of your level of diligence, efficiency, and intelligence. You need to double-check everything and make sure you deliver an excellent presentation to remove any doubt about your abilities
6. Organizational skills
Organizational skills are highly sought-after, but they are notoriously difficult to recognize. Different organizations have their requirements, so you may not know exactly what they need. Still, you need to show as many organizational skills as possible from time management, planning, efficiency, creative and critical thinking, attention to detail, and problem-solving skills.
How to improve my interview skills
You may not have all the required skills for your interview presentation, but you can always develop them with some effort. Some of these skills are general skills you should have regardless, like verbal and written skills. While some of them are specific to the role for which you applied.
You can find several interview presentation ideas and tools to help you improve those skills. There are also interview presentation templates, samples, and interview presentation ideas creative enough for you to adopt for your benefit. With some practice and determination, you can develop any skill you need.
7 Tips to Acing Your Interview Presentation
1. Focus on your topic
When giving your ideas and topics, you need to have the main one to base the presentation on. Usually, the interviewers give you a few topics to choose from, so you can pick one that you can confidently deliver. Make sure to keep on track and don't go too far off your point.
2. Give your presentation a structure
Every interview presentation needs a structure that follows from start to finish. Your presentation's structure gives it a clean, defined look that, in turn, makes you seem efficient and organized. Also, when you have a structure, it is easier for you to keep track of your delivery.
3. Do your research
Once again, research is important if you intend to leave a lasting impression on your interview presentation panel. Your research has to cover the topic of your interview presentation, the position you're applying for, and the company you want to hire you.
4. Go along with the time limit
Interview presentations usually have a time limit, especially if multiple people are presenting on the same day. You need to stay within the time limit and avoid getting cut off in the middle of your speech. Time management is important, so you don't skip out on any of your important points.
5. Use a 'less is more' approach
When delivering a job interview presentation, you have to keep in mind that quality trumps quantity. It would help if you kept your job interview presentation as concise as possible, leaving room for questions at the end. Also, your slides should be understated and simple, with each slide containing one simple message. Keep the number of slides to a minimum.
6. Study your audience
Studying your audience is essential because it allows you to plan your interview presentation around their needs and expectations. Job interview presentations for entry-level staff and senior positions usually have different audiences and interviewers, so you can't use the same interview presentation templates for both.
7. Keep your interviewers engaged
Your job interview presentation should not be a one-sided lecture where you load your interviewers with more facts. You should aim to get them engaged throughout the delivery and keep their attention on you at all times. Make your interview presentation ideas exciting and interesting, so they don't get bored halfway through it.
How to start your presentation
Start with an ice breaker
Interview presentations are usually professional and impersonal, so you can start with an ice breaker to lighten the mood and get your audience interested. Try starting with a personal story, an interesting fact, or a thought-provoking question.
Speak for a short while without your slide
Your presentation slide should be an accompaniment and not the main part of your interview presentation. So, try introducing your presentation first without your slide to give yourself a head start.
Introduce your topic with a visual aid
Using visual aid to introduce your presentation is a great way to begin your slide and immediately grab people's attention. You can prepare a title slide with an image, infographic, or even video introducing your presentation topic.
To avoid having a boring presentation, you can incorporate some Interview presentation ideas creative enough to blend well with your topic while also entertaining your audience. Props are great for creating conversations and getting people involved with the presentation.
Engage the panel with an activity
The activity doesn't necessarily have to be physical. You can get them to ask questions, begin a discussion, answer a few of your own questions. Your aim should be to keep your interview presentation as engaging as possible.
How to end your presentation
Summarize your message on a final slide
End your presentation with a closing slide that summarizes your main points and focus message.
Give an oral summary with a final word
Also, summarize the presentation orally and end it memorably. Some interview presentation ideas creative enough for your ending include asking an open-ended question, tying your ending into a memorable quote, or ending with an impactful call-to-action.
Reiterate why you want to work in the company
Remember to do this without sounding too desperate. Some better interview presentation ideas creative enough for you are to make them see what they will miss by not hiring you and make it clear that you have fresh ideas for the company.
As usual, open the floor for questions.
How to crack an interview presentation
You can create a great PowerPoint presentation to help you with your presentation. Create some slides, and if possible, some handouts for your audience. Visual aids are also important when delivering an interview PowerPoint presentation. It would help if you had them highlight your key points and get your interviewing panel's attention.
Know what to expect beforehand
Before you go ahead with your interview presentation, you need to find out as much as possible from your hiring manager. Ask questions about the topics you got, the panel of interviewers, and every resource you will have at your disposal. More information can help you prepare good interview presentation ideas.
No matter how good your interview presentation is, if you don't have a good delivery, you won't make a good enough impression on your interviewer. To ensure that your delivery is good, practice the interview presentation well and, if possible, get some feedback that will help you make any adjustments you may need.
Your interview PowerPoint presentation must always have a structure. Don't go in with the expectation of winging it because any mistakes you make can harm your chances of being hired. Create a proper interview presentation template, and make sure you follow the outline.
Practice the interview first
Ace your interview by practicing with Orai
What is the best way to impress the interviewer?
1. Be yourself
As redundant as this may sound, many people still walk into interviews, acting out a script that they think will endear them to their interviewers. They don't know that people can usually spot a fake, and that alone can make it difficult for the panel to warm up to them.
2. Dress appropriately
Your dressing announces you the moment you walk into your presentation and is the first thing your interviewer will judge. Ensure that you are wearing appropriate attire and that you look put together. No stray threads and hastily worn outfits will gain you a point during this interview presentation.
3. Arrive early
As I mentioned earlier, punctuality is a great way to show how efficient and organized you are. Always arrive at the interview at least 10 minutes early. If your interviewers have to wait for you, you won't earn any points in their book.
4. Show your passion for the position
While interviewing candidates, most interviewers lookout for those that they believe will take their positions seriously. While you don't want to seem too eager, you can show your passion for the job through your interview presentation. Make them know what you can bring to the table, which is sure to grab their attention.
5. Carry a physical copy of your resume
Many applications happen online, so carrying along some physical copies of your resume may seem unnecessary. But, you always have to be ready for any eventuality. You might refer to the document, or an interviewer might ask for a copy, and you don't want to look unprepared if that happens.
6. Be polite and courteous
Politeness and courtesy are traits you always want to go within an interview presentation. Apart from good life skills, they can endear you to your interviewers. Treat them all with respect, even the staff who greet you outside.
7. Always mention what you can do for the company
As you give your interview presentation ideas, always remember to mention your skills and background. Tie in your presentation to your previous achievements and the skills you bring to the table. Also, address the position requirements at every chance you get and make them see why you are fit for the job.
8. Come prepared for the interview questions
You should always prepare for the interview presentation questions you expect from the interviewer. The interviewer will likely want to know how much you know, so you should check out interview presentation templates to find relevant interview presentation questions. If you answer them brilliantly, you will leave a good impression on your interviewers.
9. Answer your questions brilliantly
At the end of your presentation, your interviewers will likely ask you a few questions concerning your presentation and judge you based on your answers' quality. You want to answer those questions excellently and leave no doubt in their minds that you're fit for the position.
10. Be memorable
Interviewers likely hear several interview presentations in a day, so you need to do something that can make you stand out. Do you have a unique skill? A hobby? Find ways to leave a lasting impression after your interview presentation. You can send a follow-up email or note after the interview presentation to make sure they don't forget you.
Interview Do's and Don'ts
| | |
| --- | --- |
| What to do | What not to do |
| Always do your research on the company and position | Attending the interview with little knowledge of the parent company |
| Dress formally unless otherwise stated. Keep your makeup and perfume neutral and understated | Wearing casual clothes, like flip flops and graphic t-shirts, no matter how clean they are, and wearing too much makeup or cologne |
| Smile when approaching your interviewers and offer to shake their hand | Violating the interviewer's personal space |
| Write down important points in a note and carry it along with you | Being rude to the support staff |
| Address each interviewer by their correct title | Bringing personal beliefs like religion and politics into your presentation |
| Observe good posture | Use slang and abbreviations while presenting |
| Take time to answer questions | Badmouthing your current or previous employer |
| Act confident and positive | Going into the interview with your phone on |
Conclusion
An interview presentation is a great way for an employer to know more about you, assess your skills, and see if you are fit for the role. This is your chance to impress them, and there are several interview presentation ideas creative enough to impress an interview panel in this article. Know them and apply them to your other interview skills.
Summary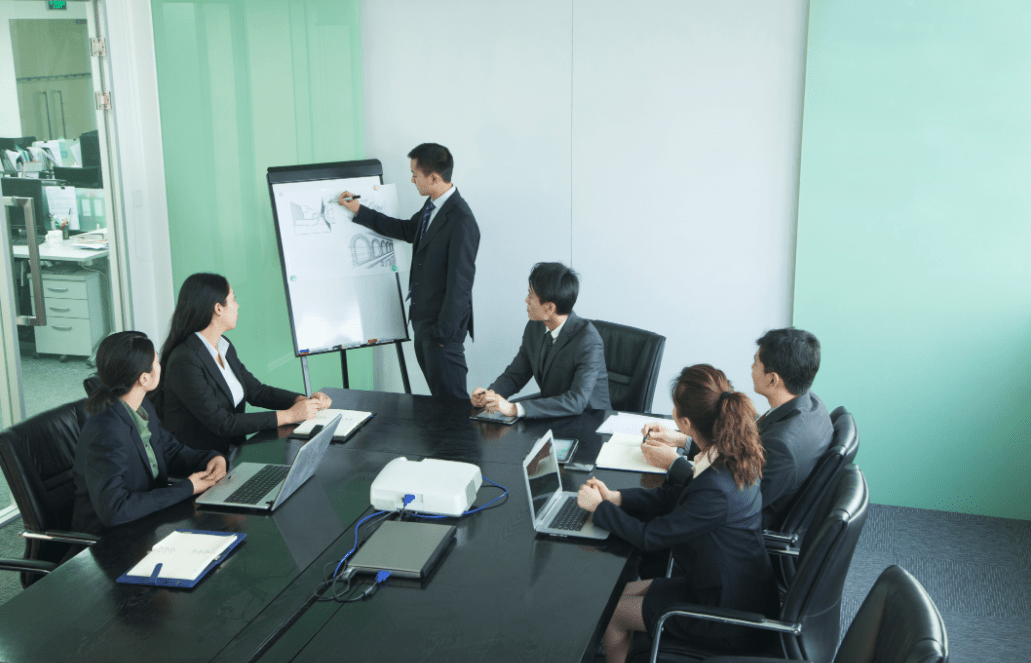 Article Name
7 Tips to Acing Your Interview Presentation
Description
Learn how to deliver your next interview presentation, impress your interviewers, and improve your job and career skills!
Author
Publisher Name
Publisher Logo