Having a sense of purpose in both your professional and personal life is critical to your success. It is useful advice in an impending deadline, an important presentation, or when clients rely on your performance.
Words can revitalize you on both a physical and emotional level. Motivational speeches may help you stay focused on your objectives while also motivating your team. Having the right words to say the right thing at the right moment has the power to transform you and challenge your thinking.
You can use these motivational speeches to stay inspired and fulfilled no matter what life throws at you. These speeches will remind you why you do what you do and how much you enjoy doing it.
How Motivational Speeches Move People
People are propelled ahead by motivation. It rouses individuals from their complacency and opens their eyes to the thrilling possibilities that lie ahead. It is where motivational speeches help people to rise beyond the shackles of their ordinary existences.
Although motivation has a profound and even mystical effect on individuals, it is not as elusive as it first seems. Best motivational speeches are those that provoke thinking and meaning.
What Makes The Best Motivational Speeches
Best motivational speeches all have one thing in common: they're filled with emotion. Emotions influence our decisions, behaviors, and viewpoints in every area of our lives. Motivational speeches are often filled with:
Anecdotes about overcoming adversity
Perseverance
Achieving success
Speakers who use emotive topics and talking points that the audience can connect to are more likely to motivate the audience.
Plus, make them believe that they can overcome whatever obstacles stand in their way. The feeling of hope often sparks inspiration.
| | |
| --- | --- |
| Topic | Content |
| Success | Provide the exciting bends that happened in your life and explain how you overcame these obstacles. Show that your struggles shaped you now. |
| Happiness | It focuses on the positive outlook of your mental and spiritual state. |
| Youth | Encouraging the younger generation to have a happy or positive perspective in life. |
Qualities of Good Motivational Speakers
A few of the most effective motivational speakers share the characteristics listed below.
| | |
| --- | --- |
| Tell Great Story | Speakers who use storytelling to motivate their audiences do so by sharing unique and relevant tales to the audience. |
| Confident | Speakers' nervousness or uncertainty about what they're doing or saying may be detected by the audience. |
| Self-Aware | In terms of motivational speeches about life, a great speaker knows who they are and what they stand for. |
| Empathetic | Great motivational speakers can put themselves in the shoes of people in their audience, distinguishing quality. |
| Knowledgeable | To become a successful motivational speaker, one must be current and informed in their field. Motivational speakers don't happen to be around; they have to be trained and nurtured. |
For more knowledge in delivering a motivational speech, here are some tips:
Initiate mobility. Speakers begin with a speech, but concentrating the audience on various elements leads to a specific outcome.
Straight to the point. Speakers convince the audience of their credibility while giving their speeches.
Make it interesting. An effective motivational speaker knows that just standing in front of an audience and blathering is never appreciated.
Practice your speech with Orai. Get feedback on your tone, tempo, confidence, and conciseness
Motivational Speeches From Universities
Motivational speeches from well-known people are given during graduation each year to encourage students. Here are the best motivational speeches during the commencement exercises of different universities:
1. Denzel Washington – University of Pennsylvania
Denzel Washington's motivational speech discusses the importance of taking chances in life and how. It is among the finest motivational speeches that are valid for business owners. He stated that when you fail, you should fall forward to his graduation address. Also, he encourages people to embrace failure and grow from it.
2. Steve Jobs – Stanford University
Definitely among the finest motivational speeches ever! His motivational speech discussed life's setbacks, such as death, and how understanding death may help people make better life decisions. His comments to the graduating class on the value of learning and pursuing goals were the most valuable advice he could give them.
3. Jim Carrey – Maharishi University
At Maharishi University in Iowa, actor, and comedian Jim Carrey delivered one of the most original graduation addresses ever. His takeaway from his motivational speech is: Never give up on your goals and never give up on yourself. Indeed, it is one of the best motivational speeches.
4. J.K. Rowling – Harvard University
Several publishers rejected J.K. Rowling's Harry Potter series before it was finally accepted, as is well known. However, before she became successful, she was in a desperate position and was about to become bankrupt. In her Harvard address, she stressed the importance of not being afraid of failure and of persisting in the face of adversity.
5. Matthew McConaughey – University of Houston
Next on our list is Matthew McConaughey's motivational speech. His speech has various excellent ideas. But, the one that stood out was when he said that we should approach happiness constantly.
In the end, he discovered that everything came into place when he approached things step by step. After everything was said and done, Matthew McConaughey gave one of the best motivational speeches in recent years.
6. Michelle Obama – Eastern Kentucky University
Michelle Obama delivered a commencement speech to the Eastern Kentucky University class of 2013. She urged them to keep challenging their assumptions and find a way to make their flaws work for them. Her speech focused on giving the students motivation about life.
When it comes to defining moments in your life, it won't be when you receive the promotion or have a breakthrough in your career.
7. Peter Dinklage – Bennington College
Game of Thrones actor Peter Dinklage is well-known for his portrayal as Tyrion Lannister in the show. He delivered the Bennington College graduating speech in 2012. The message he delivered to the graduating class focused on perseverance and doing everything it takes to succeed.
8. John Roberts – Cardigan Mountain School
US Supreme Court Chief Justice John Roberts addressed his son's graduating high school class in 2017. It's not good luck; he wishes the grads in his address. He expresses his want for kids to experience loneliness, failure, and defeat from time to time.
9. Natalie Portman – Harvard University
Actress Natalie Portman addressed Harvard University's 2015 graduating class during their graduation ceremony. She uses wide brushstrokes from all periods of her life to build a picture in her compelling speech. Also, she claims to have discovered that taking measured risks may result in life-altering benefits, as she has done it herself.
10. Meryl Streep – Barnard College
Meryl Streep is most recognized for being a 16-time nominee and 2-time winner at the Academy Awards. While at Barnard College, she made a memorable graduating address in 2010 that inspired the audience. However, in her address, she emphasized the importance of her relationships with family and friends.
Become an excellent speaker with the perfect Motivational speech.
Download the Orai App to know more
Motivational Speeches From Ted Talk
Reaffirming your confidence in humanity is one of the most powerful benefits of listening to motivational speeches. Next time you need a little additional energy, have this list handy.
1. Elizabeth Gilbert
Famous author and TED speaker Elizabeth Gilbert spoke about how we all have a "genius" that we may unleash. She is the author of the best-selling book Eat, Pray, Love. Gilbert's motivational speech emphasized the importance of not being intimidated or scared of success.
2. Tony Robbins
One of the most well-known motivational speakers today is Tony Robbins. This TED lecture, in particular, has a profound effect on the listener. It addresses two major issues in its title, "Why We Do What We Do."
We learn about ourselves and others by asking these kinds of inquiries. What should you remember? Yourself is the only person who can decide whether or not you succeed.
3. Richard St. John
Next on our list of motivational speeches is Richard St. John's TED Talk from 2005, given by the author, marketer, and analyst. St. John's address, which was based on his book "8 To Be Great," gets to the point in a manner that most speeches don't
The remainder of St. John's discourse makes fast transitions from one intriguing topic to the next without wasting time or words. There are also a few well-placed jokes in there. As a result, even though he covers a lot of subjects, his audience retains what he says.
4. Dan Pink
As a writer, Dan Pink's reputation is supported by a wide range of "legs," such as his writings and accolades. Also, in the late 1990s, he was the primary speechwriter for former US Vice President Al Gore.
Pink's TED Talk is a role model for everyone who wants to take a dull subject and convert it into motivating. He started his speech by examining how most economists see the performance, stating, "If you want people to perform better, you reward them. Right? That's how business works."
5. Mel Robbins
As far as speakers go, Mel Robbins has a solid reputation for taking a direct and honest stance on even the most emotional subjects. Due to this, she's not scared to speak her mind regarding difficult issues. She only chooses a person from her audience to underscore her speech's enormous chances of being born.
6. Simon Sinek
First seen in his 2009 TED Talk "How Great Leaders Inspire Action," Simon Sinek is a best-selling author. Sinek proves that he's not just switching from one stereotyped issue to another. In addition, he encourages audiences to let go of their preconceived notions about the subject to approach it with a fresh perspective.
7. Tali Sharot
Dr. Tali Sharot is dedicated to helping people realize their dreams, both personal and professional. She works to increase awareness of the impact that emotions can have on our decisions and behavior. In this TED talk, she talks about how to motivate yourself to change your behavior.
8. Brene Brown
Brene Brown, a Texan with a penchant for ranting and raving, is an authority on shame and vulnerability. A key focus of Brown's research is human connection. Over 16 million people have seen her motivational TED presentation in which she offers a profound discovery from her studies. It launched her on a personal mission to understand both herself and humankind.
9. Malcolm Gladwell
It wouldn't be a list of motivational speeches without Malcolm Gladwell being included. Gladwell tells the tale of a guy who refused to believe in the existence of a 'perfect' spaghetti sauce. It contains important insights for executives who want to create work environments where their employees are pleased.
10. Sam Berns
It is one of the best motivational speeches you'll ever see. A 17-year-old Sam became a public face for Progeria, a hereditary disorder with the evocative moniker aging sickness. While some claimed Sam would never transcend the constraints others had placed on him, he refused to let his illness define him.
He led the life he wanted, ignoring his disease and the things that set him apart in favor of his goals. It's a remarkable heirloom left by a unique young man.
Best Motivational Speeches From Movies
While narrative and actors are important in movies, speeches leave an impression on audiences. So, here are the best motivational speeches from movies to help you out:
1. Any Given Sunday
To prepare for a rough day, hear this inspiring lecture from a well-known motivational speaker. It focuses on the importance of inches in American Football, even though we prefer to disregard them. He speaks about how his team may gain an inch on their competition by focusing on the little details of winning.
2. Miracle
Irrespective of whether or not you saw the film, it provided cinemagoers with one of the most motivational speeches ever. You don't have to yell or curse a lot. Depending on your personality, it may cause you to enter what we refer to as "the zone." Speeches in earlier films have included theatrical components; this one does not.
3. Hoosiers
Even though we're still in college, we've already gained enough life experience to realize that working hard doesn't guarantee a W. Even if we give it our all, dozing off in the library at 3 a.m. on top of our books, that doesn't guarantee an A. Isn't it enough if you're giving it your all?
4. Friday Night Lights
Is it possible for you to speak the truth to your friends while looking them in the eye? That you put out all of your efforts? Coach Gaines, in this film, says that if you can accomplish it with love in your heart, you've achieved perfection. In this scenario, his message inspires honesty, camaraderie, and love among his team members.
5. Rocky Balboa
Rocky Balboa reminds his kid that life isn't fair in this scene since he is a father figure in the Rocky franchise. It is like boxing in that how hard you punch back is immaterial. According to him, what matters is how much you can absorb and how quickly you can go ahead.
6. The Pursuit of Happiness
It's worth mentioning that the whole picture is moving since it depicts father-son relationships. In this speech, a father instructs his kid to never give up on his dreams, no matter how unlikely it may seem to others. To summarize, if someone tells you that you can't attain your objectives, don't believe them.
7. Wolf of Wall Street
The main hero's speech in Wolf of Wall Street is encouraging because it takes achievement into account. Seeing examples of people who rose from poverty to riches might encourage others to risk when an opportunity arises. Since his speech, it's become more important to have a decent standard of life.
8. Braveheart
William Wallace gives a speech in this scene on the importance of freedom to a human being. For him, independence trumps the monotony of everyday existence. The speech has the potential to motivate listeners to take real action instead of just producing food.
9. The Shawshank Redemption
Motivational speeches like this one demonstrate confidence in an optimistic future. You can still use it, even if you have to put in a lot of work to get there while another guy gives up. It would help if you had an optimistic outlook on life's prospects at all times.
10. Independence Day
In this film, the president discusses the importance of humanism and goodwill amongst all countries. His message is motivational because he talks about uniting against common adversaries and preserving lives. If you're thinking about international relations, this speech is a gold mine.
Parting Words
That concludes our selection of the best motivational speeches to get you through the tough times ahead! Let's take a look at some of the common themes that appear in all of these talks.
It's critical that you like your work.
Even if you fail, that's not the end of the world.
It would be better if you aspired to it.
Now, think about the topics that will motivate your listeners to pay attention to what you have to say. You may also use the Orai App to help you enhance your public speaking skills and capture the attention of your audience. Furthermore, take advantage of the free trial offer and get started right now.
Practice makes a man perfect. Start practicing and become a pro speaker
Summary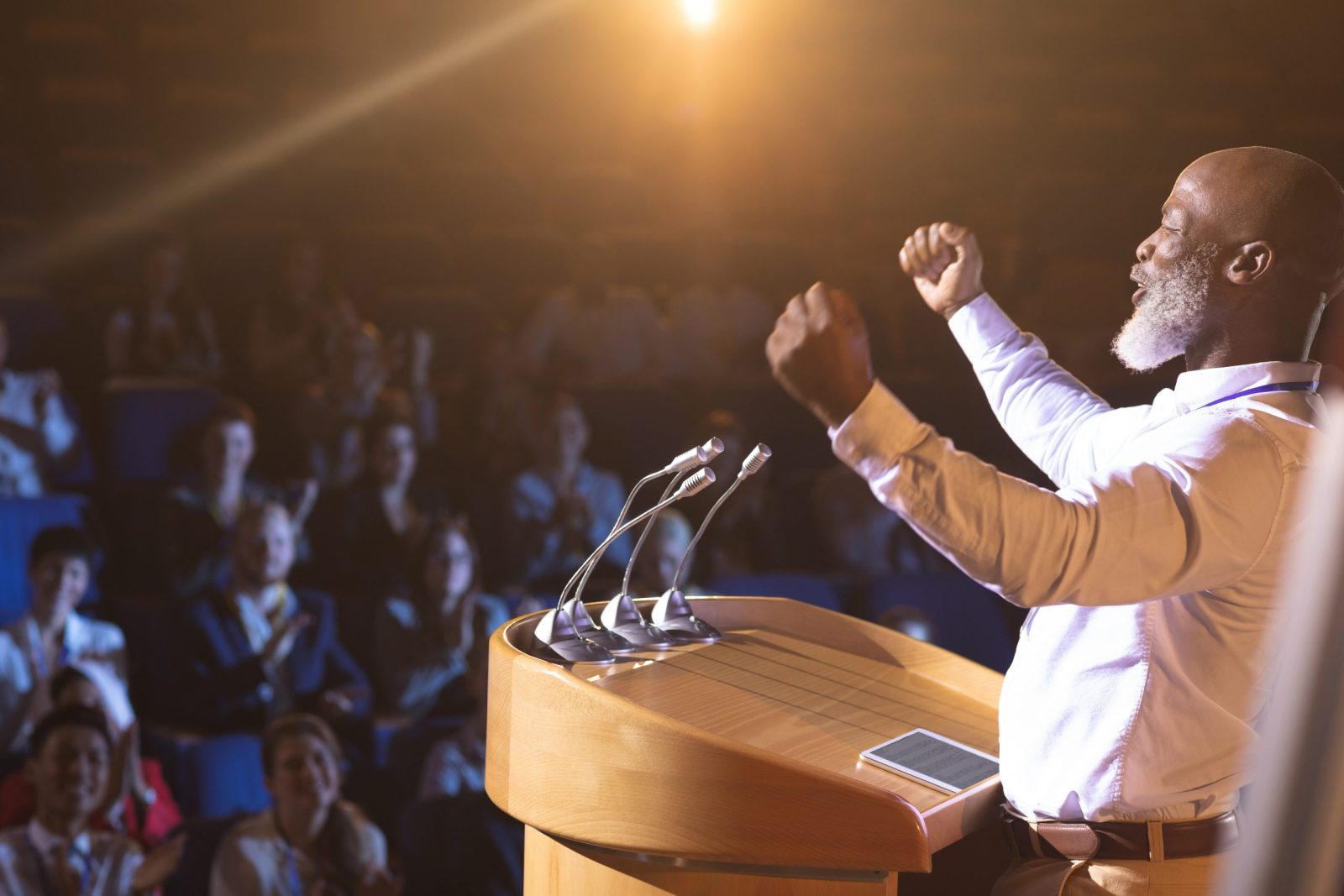 Article Name
30 Motivational Speeches To Get You Moving Forward Now
Description
Author
Publisher Name
Publisher Logo