If you usually find yourself presenting information to your colleagues or clients, you have undoubtedly experienced some troubles. It can be daunting to open up PowerPoint on your computer and spend valuable time figuring out an outline or how you should format your slides to convey your message effectively.
Fortunately, there is a selection of presentation software that you can use. These tools have similar purposes, although each has its benefits and drawbacks.
This article will cover some of the best presentation softwares, including presentation software definition. Interested? Continue reading.
What is presentation software?
Presentation software is a program designed to make it easier for you to create and polish your presentations. Moreover, it's common for this type of software to offer wizards that can help you add animations and special effects to your slides.
Many presentation tools also include sharing features that allow your audience members to comment on or annotate each slide with sticky notes or other online annotations.
Why is Presentation Software Important?
Delivering a quality presentation is an important part of your overall professional career. For example, Video presentation software can help you create engaging and attention-grabbing presentations that will make you stand out. Furthermore, this software also makes persuasion of your audience a bit easier.
With all the different video presentation software available, it can be hard to determine which one to choose. When deciding on what to use, you should consider some factors, such as cost, ease of use, and integration with other services.
To make choosing easier for you, we've put together a list of our favorite paid and free presentation softwares for making professional-looking presentations that anyone can afford.
What is presentation software used for?
Because most presentations contain charts, figures, and text, this software is typically used to organize those documents through slides for better presentability.
However, some presentation software can also create multimedia presentations that include sound and video elements. These files are then shared online or distributed on CD/DVDs for attendees to view on their computers.
As with any document or file, there are a variety of free and commercial solutions available for creating presentations, so it's best to explore your options before deciding which product you'd like to use.
Key Features to Consider in choosing the best presentation software
When you're considering choosing a presentation software for yourself or your team, you should look out for some features that are must-haves. Below are a few you should look out for:
1. Design Library
The best presentation softwares should have professional templates, which would help get your presentations done quickly and efficiently. They can help you organize, create clear slides, and make professional-looking documents that your audience appreciates.
2. Simplicity
It would help if you considered presentation softwares with easy-to-use features and intuitive functionalities.
3. Shareability
Remote work is becoming more mainstream because people prefer to work online, both full-time and part-time. It should be easy to share files, collaborate in real-time, and stay connected to your team – all from any place you are.
4. Cost
It is important to remember that affordability is a top consideration when choosing presentation software. Consider its features and how well they will benefit you, then decide if it is worth it.
5. Compatibility
When it comes to presentation softwares, you have to consider the nature of the work. If you are a user-oriented person, you should go for the ones designed with ease of access. If you want something more sophisticated, you should look for software designed elegantly.
Ready with your presentation? Get it right with Orai
Online PowerPoint Presentation Software Alternatives
There are many PowerPoint presentation software alternatives in the market. Below are some of the best ones that you can use:
Google Slides
Google Slides is designed to make it easy for you to create and share presentations online. One of its most popular features is that it allows calls and chat so you can communicate with your audience in real-time—an effective way to present important information from afar.
Presenters can ask questions on a separate screen within the presenter view. Viewers can visit a link to the top of your presentation and ask questions. All questions received as a suggestion (presenter view) will appear in the suggestions/question list, accessible from the host view.
Google Slides price: Free
Slidebean
Slidebean is an online tool that provides you with all of PowerPoint's basic functionality—including templates, images, and animations—but without any of its drawbacks. Specifically, PowerPoint isn't recommended for two reasons: it has a massive learning curve and lacks flexibility.
No one wants to study the software extensively before they can use it! Even though you can create beautiful presentations with PowerPoint (if you know what you're doing), your options are limited by what Microsoft deems appropriate (i.e., lots of backgrounds but few images).
With Slidebean, none of those drawbacks exist; if you don't like something, change it! The sky's the limit.
Slidebean Pricing
| | | | |
| --- | --- | --- | --- |
| Free | Starter Plan | Premium | Founder's Edition |
| $0/month | $8/month | $19/month | $149/month |
Zoho Show
If you need presentation software but don't want to be limited by PowerPoint, Zoho Show has proved itself as one of the best options in the market.
This web-based tool is feature-rich and simple to use; it allows users to create presentations on their computer or mobile device, including Apple iPad tablets. It also includes support for Google Drive, Docs, Sheets, Slides, and Outlook email management. Those with limited storage space or bandwidth concerns have a smaller file size than other options.
Zoho Show price: Free for personal use
Keynote
Keynote is a Mac-only presentation software tool that professionals use to craft beautiful presentations.
The secret to Keynote's success is its ease of use, powerful capabilities, and an amazing array of transitions. Its learning curve can be steep, but you can do just about anything with it once you know your way around.
And because it's designed to work seamlessly with Apple products, you can upload your presentation slides directly from iTunes without extra third-party software. If you have a Mac or are ready to make one your primary computer, Keynote may be perfect for you.
Keynote's Price: Free
Offline PowerPoint Presentation Software Alternatives
Canva
Canva makes presentation creation simple for everyone. The Canva presentation tool can bring your presentation to life. It also lets you collaborate with your colleagues anywhere, anytime. Furthermore, there are countless templates, graphics, and photos that you use for your presentation. Present your best self while interacting with your audience!
Canva Price: Free plan available; Pro plans start at $9.99/month and include additional features.
Prezi
One advantage of Prezi is that it works offline, making it great for people who frequently travel. Since its presentations are stored in your browser, you don't need an internet connection to use them. This can be helpful when you're presenting at a conference or meeting far from home—or if there isn't reliable Wi-Fi at your destination.
You can even create presentations ahead of time and bring them on a USB stick, so you always have access to them (and only upload them once you're connected again). Best of all, Prezi lets you view presentations (and other file types) inside its interface.
Prezi price: Free plan available
What are the best presentation softwares?
Visme
Visme has a beautifully designed UI that allows you to create attractive presentations in no time. It is packed with millions of free images, thousands of vector icons, graph tools in any style, and hundreds of fonts! Its templates are simple, elegant, and easy to use. Users can save, share, edit, and print their presentations in just a few clicks.
That's not all, though. Below are some of its features:
Publish to your website, share via URL or embed into a blog post or web page
Manage your projects and password protect them to keep others from viewing your projects
Present your slide show by taking it with you on your phone — and no more worrying about connecting the projector
Incorporate seamless transitions from slide to slide, so you can easily bring your audience to the next point in your presentation
Access to third-party integrations to additional functionality
Search for the exact slides you need from an extensive library of professionally designed slides and templates
Visme Pricing
| | | | |
| --- | --- | --- | --- |
| Basic | Personal | Business | Enterprise |
| Free | $25/month | $49/month | Custom Price |
Ludus
Ludus presentation tool is designed to help you take your ideas and present them in a compelling and useful way. It has a clean interface that is well-organized and responsive, and it can be configured to do just about anything—all without breaking your budget.
Anyone who knows how to use PowerPoint should have no problem working with Ludus, making it easy to set up dynamic presentations quickly.
The software integrates nicely with other popular cloud services, allowing you to pull data from tools like Google Drive or Evernote as needed. If there's one minor drawback to Ludus, it's that some users may find its user interface a bit basic.
This simplicity does have its upsides, though: since everything is so simple and intuitive, anyone who has used PowerPoint will find it easy to start creating their presentation project immediately after buying it.
The features of this software include:
Live collaboration on the same with colleagues without getting in each other's way
Integration with lots of apps like Google Drive, Dropbox, and Adobe creative
Presentation cloning
Creating with no limits with color picker, color overlay, blend modes, and so on
Presentation password protect
Custom URL
Speakers note
Embed videos
Upload and convert videos
Drag-and-drop videos
What presentation softwares can make video presentations
Camtasia
Camtasia is a video Presentation software that allows you to create stunning presentations regardless of your skill level. Its easy-to-use interface is what makes it one of the best presentation software out there. You can quickly learn how to use this software without any requirement of technical knowledge.
This software makes it easy to capture your screen in a variety of ways. You can even upload your media files and place them in the order you want.
Key Features
Very intuitive interface
Allows webcam usage
Photo editing
Noise removal
Price: Free trial is available
Standard one-user license: $249.99
The latest version costs: $149.50
Pros
It has high compatibility
No time limit
Easy to publish and share
Cons
It doesn't support a digital camera
No web-based option
PowToon
PowToon is one of the best presentation software available because it helps create animated presentations easily on PC or Mac. This video presentation software is a great way to turn your written materials into explainer videos. It's easy to use and offers an intuitive way to deliver an impactful message.
It's easy to use and doesn't require any prior experience, and the results are professional. However, you are limited to how many features you can use depending on the plan you choose.
Key Features
Animation effects
Option of using voice narration
Ease of use
Smooth transitions
Pros
It is a free presentation software
Content sharing is smooth and easy
Cons
Doesn't have many functionalities compared to other softwares
Loading content of third-party takes time
There is no auto-save feature
Key Takeaway
When choosing the best presentation software for you, make sure it meets your needs. Some software allows you to upload files, some allow easy transition effects, and some are simple. You'll want to find something within your budget that allows you to do what you need it to do with minimal effort.
If you're looking for free presentation softwares, look at programs like Google Slides or Keynote; these are great options if you need and they are more than just a simple platform.
And finally, remember that these presentation software aren't magic; if your pitch doesn't resonate with customers, they aren't going to buy from you no matter how slick your slides are.
Practice your presentation with Orai. Get expert's opinion on the tone and tempo of your presentation.
Summary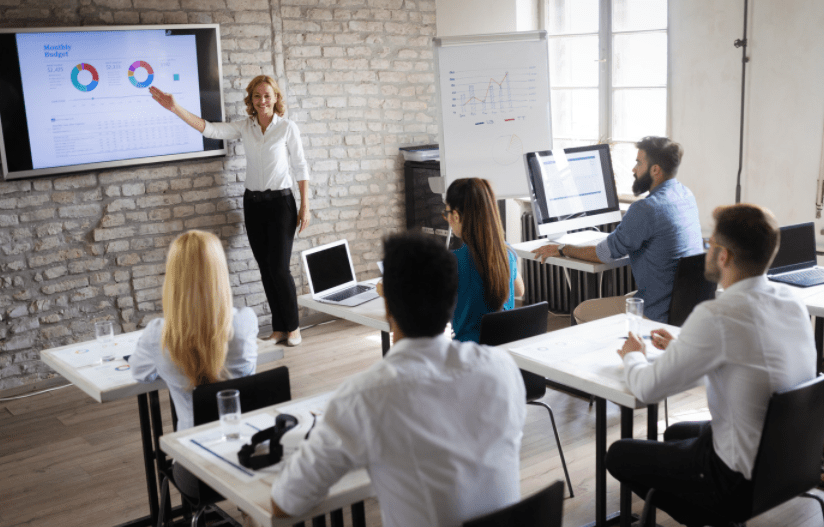 Article Name
Presentation Software: PowerPoint Alternatives
Description
Setting up a presentation doesn't have to be hard. With PowerPoint alternatives, your life could be much easier. Check out this article to learn more!
Author
Publisher Name
Publisher Logo